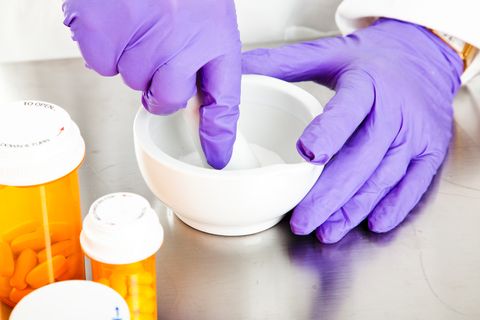 We are a compounding pharmacy, which means we make custom medication tailored to your needs. For example:
If you are allergic to an inactive ingredient, such as a preservative or dye, our pharmacist can make that medication without that ingredient.

If your child cannot swallow pills, we can make a liquid option.
Compounding
We are a pharmacy specializing in compounds, which provides a way for physicians to customize their prescriptions to customize the needs of their patients. We can provide a varied amount of different dosage forms, including capsules, sublingual drops, topical creams, orally dissolving tablets and troches, oral suspensions, suppositories, and much more!
What types of doctors prescribe compounds?
Many different specializations of doctors prescribe compounds, including primary care physicians. We commonly prepare compounds for the patients of dentists, dermatologists, gastroenterologists, OB/GYNs, hormone replacement therapists, pain management offices, podiatrists, and last (but not least!) veterinarians!
Is compounding right for me? Why would I need compounding?
Only your physician can properly assess your personal needs as a patient. However, we can work in conjunction with your doctor if they have any questions or concerns about what is available (both commercially and via compounding). Patients commonly receive compounded medication prescriptions for many reasons: commercially-available strengths of a medication are too low or too high, someone can't swallow tablets or capsules, or a dosage form might not be available for the type of medication the doctor wants to prescribe. Whatever the reason, your provider can always contact us to work out the best solution for your needs.